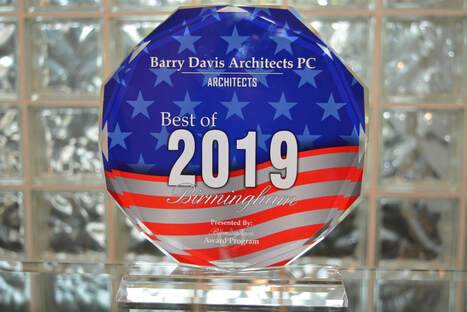 QUALITY ARCHITECTURE DEPENDENT UPON
HEARING THE CLIENT'S NEEDS
At Barry Davis Architects, we firmly believe that architects by definition are generalists. This means that our training and experience should provide the unique perspective and ability to address a wide variety of project types as well as the breadth of responsibilities required for all projects. We also assert that architecture is the art and science of building; therefore, this breadth of vision cannot diminish our concern for composition and attention to details deserving of each project. To this end, our experience includes Government; municipal; educational; religious; hospitality; commercial office; detention; medical; retail; residential (single- and multi-family); industrial; and recreational facilities. As a Service Disabled Veteran-Owned Small Business, Barry Davis Architects has taken the opportunity to team with other large engineering firms and continues to serve our nation's military through architecture. In addition to providing basic architectural services, we offer programming; master planning; space planning and interior design; rendering; and construction management services.

It is essential to recognize that the key to the success of any project is clear communication between the architect and the client. We are committed to service to our clients and we take great pride in our ability to listen to, understand and empathize with the wants and needs of our client. When a client hires Barry Davis Architects, he/she is assured that the person who discusses his/her program is the same person who draws the plans, writes the specifications and oversees the construction. This is the greatest advantage of a small firm. At the same time, our computer-based practice and diverse experience allow us to provide a level of service one would normally expect from a much larger firm.

We thrive on architecture. We enjoy our work and take great pride in making a positive impact on the built environment. As a relatively small firm with emphasis on design, we are selective in the projects we pursue. We only go after projects we feel can be - as a result of strong team effort with the Owner - good architecture. When we are awarded a commission, we throw ourselves into the project with all our talent and energy in a sincere pursuit of excellence.
---

"Architecture is the Art that so disposes the edifices built by Man that they increase his pleasure, his power; indeed, his whole state of being."
Thomas Jefferson, 1784